To order just call (1) 514 -738-1414
THE SHABBAS LAMP
Description:
Now there's an easier way to read in bed on Shabbat!
You'll be able to Direct the light -- Dim the light – and even "Turn it off!"
It's called KOSHERLAMP™ The patent-pending FADESHADE™ technology allows you to direct the light and set the brightness of your lamp with a simple twist of the shade.
You can even turn it "off" in accordance with the laws of Shabbat. When you want to go to sleep, the FADESHADE™ kosher lamp technology allows heat to escape safely while blocking virtually all the light … without turning off the light switch! Approved by major Poskim. Presently KOSHERLAMP™ is available in the 110V North American version.
Due to the arrangements with the manufacturer, we are unable to ship the Kosherlamp to an address outside the USA.
Great for shared kids rooms with different bedtimes.
Read to your little ones before tucking them in.
Great for an infant's room during the night.
Have one for a Shabbos guest sleeping on the sofa.
Take one with you when staying in a hotel.
Buy one for your child at Yeshiva or Seminary.
Fabulous Bar Mitzvah or Bat Mitzvah gift.
Great Birthday, Engagement or Wedding present.
KosherLamp uses a special energy saving compact fluorescent bulb. Normally these cost up to $5 each. You may not have a bulb like this at home and we want you to be able to use your new Kosher Lamp out of the box...
1. Is it safe? Won't it overheat?

KOSHERLAMP™ has been tested and approved by the Canadian and American Underwriter's Laboratories. KOSHERLAMP™ uses a patent-pending venting system which allows heat to escape while keeping the light in. This is accomplished by using a high efficiency compact flourescent bulb which give's off light equivalent to a 40w incandescent bulb, but with very little heat. Also, the lamp is made from safe polyresin.

2. Can I leave it on for a three day Yom Tov?
KOSHERLAMP™ has been safely tested for up to two weeks uninterrupted use with the bulb on, and the shade in the "closed" position.
3. Where can I get a bulb?
- USE only a 13 Watt Compact Fluorescent bulb or smaller. We recommend a 10 Watt bulb WHICH IS INCLUDED WITH YOUR LAMP.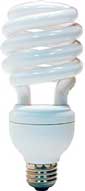 - DO NOT USE A REGULAR INCANDESCENT OR HALOGEN BULB. THEY WILL OVERHEAT
High efficiency, compact fluorescent bulbs, which replace regular incandescent bulbs, can be found at all major hardware, home improvement and lighting stores. They come in a variety of shapes; coil and tubular, and a range of wattages. We recommend an 10 Watt bulb, which is the equivalent of 40 Watt incandescent bulb used in a bedroom table lamp. A 13 Watt compact fluorescent bulb replaces a 60 Watt incandescent bulb. Do not use a bulb greater than 13 Watts.
4. How long will the KOSHERLAMP™ last before I have to replace the bulb?
Most compact fluorescent bulbs of this type are rated at 10,000 hours. Because of the extra heat generated in the closed position, it will slightly shorten bulb life. When installed in a recessed can or totally enclosed fixture Philips rates the life of their bulb at 7,000 hours. Since the KOSHERLAMP™ is vented and not totally enclosed, you should expect between 7,000 – 10,000 hours. (that's up to seven years of Shabbosim!) If the KOSHERLAMP™ is used only on Shabbos and Yom Tov you should expect years of use before having to replace the bulb
To order just call
(1) 514 -738-1414